Posted 28 March 2017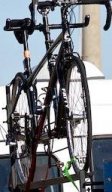 Our team are very excited to be riding in the 2017 M2M. This is the 16th year Australian Catholic University (ACU) has had a team in the Murray to Moyne. At least we think it's 16 years. Joe Perry from ACU is the foundation member and team coordinator and he's lost count! For the last seven years we have been in partnership with Youth Support Advocacy Services (YSAS). There is a small band of team members who've been on every ride since the team's inception. There are also a core of YSAS staff who've been with us ever since YSAS and ACU joined forces. The partnership is perfectly aligned with the mission of ACU and the strong spirit of community engagement at the core of ACU's programs. The partnership has worked extremely well and there's no reason that it should not continue for the foreseeable future.
The team contains staff & students from ACU, staff from YSAS, and friends and relatives from all over Victoria. We're a keen bunch of like-minded people who enjoy riding our bikes and support the invaluable work of YSAS. YSAS engage, support and strengthen highly vulnerable and high-risk young Victorians affected by, or at risk of being affected by, alcohol, drugs, mental health issues and social disconnection. YSAS does this by developing non-judgmental, caring and respectful relationships with young people and their families and communities. With more than 330 skilled staff, YSAS provides a range of integrated services across 12 sites in metropolitan and regional Victoria.
See more at http://www.ysas.org.au/about#sthash.YNER9Rzb.dpuf
We look forward to seeing you on the road at the 2017 M2M. Ride safe and may the wind be ever at your back.
Posted 08 March 2017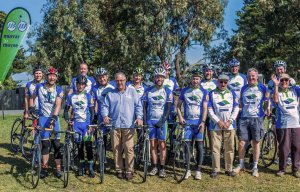 At the suggestion of Physical Education teacher Julie Moor, Warrnambool College entered a team of five riders and two supporters who took up the challenge of riding the 520 kms for the 1990 Murray to Moyne.
In this year's relay the College will have a team of up to 14 riders and 4 supporters. Tragically Julie was killed during a training ride in February 1991 and we ride to remember her spirit and love of physical effort and the outdoors.
Over the 28 year life of Team 12 it has been made up of current and past staff family members and friends and there have been 45 different riders who have been ably assisted by 15 different supporters. Six of the 2017 Team have participated in more than 18 relays whilst 9 have completed over 400 kms for the weekend, 4 having completed the whole distance.
The longevity of the team would not have been possible without the interest and enthusiasm shown by our riders and the efforts of our supporters who have accumulated over 90 participations. The ongoing support provided by the Warrnambool College, South West Health Care and Warrnambool Cheese and Butter has been invaluable. The financial assistance and in-kind support provided by local businesses over the years has been much appreciated. The energy and effort of team members to sell raffle tickets and produce, and assist in all other fundraising projects has been commendable. Further praise should be given to those in the team who donate both financially and in-kind.
Our team raises funds for the Children's Ward at Warrnambool Base Hospital (South West Health Care). Monies raised have been used by WBH for ward refurbishments, furniture, computer and television equipment, fund patient programs and to buy much needed medical equipment.
Like all teams, the varied weather conditions - cold south westerly and hot northerly winds, blistering sunshine, fog, frost between Horsham and Hamilton - have added to the challenge of the ride. There have been accidents explained and unexplained, but no bones have been broken. Given the accumulated distance we have covered over 27 years few punctures have been had. As time went on we have become more sophisticated; using more than one vehicle and 2 way radio; team colours have changed several times and team size has averaged out at 11+ per relay.
Graham Woodrup's original aim was to encourage riders to take up the challenge and our continuing participation and preparation have fulfilled his legacy. The efforts, achievements and friendships made over the past 27 years are important and we know that our endeavours to make a difference have been appreciated. As we prepare for the 2017 Relay and may it long continue.
Posted 24 February 2017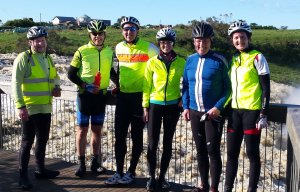 The April 2017 ride will be this team's 4th. From recent anecdotal reports of team members, most of which should be disregarded as distorted reality at best, this year's team will be fitter and faster than ever before.
The team is made up of riders from three organisations in the Warrnambool region – Brophy Family & Youth Services, headspace Warrnambool and South West TAFE. We have recently confirmed a team of 16 riders and 3 support personnel. And what a mix of skill sets we have! This team should be the most cohesive, supportive and mentally tough bunch in the field. In terms of health and wellbeing, our psychologist has been charged with ensuring that the team's minds are as finely chiselled as their physiques. We have a doctor who has been recruited to pick up the pieces when some of those bodies fail to live up to expectations. (Interestingly, this doctor is also a vet. We have had to insist on dual qualifications this year as a result of the ride two years ago, during which one of our riders was cleaned up by a kangaroo. The rider was well cared for by our team of health professionals, but the kangaroo was sadly neglected). Our Child Therapist and Social Worker will be well-placed to look after those members of the team who turn out to be less cohesive, supportive and mentally tough than we had anticipated. The team's IT professionals will ensure that all forms of communication (mobile phone, social media, telepathy …) will be functioning at the highest level. We have a range of accounting and business management skills in the team, so our provisions for catering and other supplies should be detailed to the finest degree, courtesy of the most meticulously managed spreadsheets. Our resident plumber will be on hand to ensure that any non-functioning toilets encountered during the ride will be dealt with expeditiously. The team's builder has been charged with constructing a 5-star all-purpose dwelling for the Saturday night in Hamilton – he has been given an hour for this purpose. Our team nurse will be on-hand 24/7 for the administration of all medicinal substances, although the skills required for accessing any with a twist-top are well-developed across the whole team. Finally, our strong cohort of teachers and trainers will ensure that all our riders are fully aware of the direction they should be riding in at any point in time.
In preparation for the ride, the team have been very active. A small nucleus persists in getting out of bed in the wee hours of the morning three times a week to traverse the countryside on wheels (the photograph provides evidence of some of this group 'taking 5' at the majestic Hopkins Falls just east of Warrnambool). One team member also organises a so-called 'social' ride every Saturday or Sunday morning, where a lazy 100-odd kilometres are covered either side of the obligatory lycra-laden latte. The organiser of these rides presents an interesting story. Until this time last year, she had never ridden anything with less than 3 wheels. Having completed last year's M2M event, she is now a confirmed cycling junkie (she sleeps in her lycra!) and lives and breathes cycling.
Our Riding4Youth team have hosted 3 main fundraisers – a Trash 'n Treasure sale, a film fundraiser night (the much lauded Lion) and a BBQ at Bunnings on none other than Australia Day – what else would they be doing that day??
In previous years, the team has raised money for various causes, including a mind & body fitness programme for young people studying at TAFE. This year, the team's fundraising efforts are being directed to the implementation of strategies designed to prevent youth suicides – a cause close to all our hearts. Ride well, team.
Posted 15 March 2016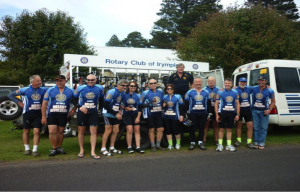 Many Rotary Clubs sponsor cycling teams or cycling events and, increasingly, even organise events as fundraisers. Few clubs can boast of having their own team of club member riders who have ridden as a team for close on 20 years. In the process this has involved, at various times, about 30% of the current members of the Rotary Club. Meet the Irymple "Rotary Revolution" Bike Riding Team!
It all started in 1997 when one of our club Rotarians suggested we participate in the "Murray to Moyne." It would be good to get Rotary away from being seen the "old sedentary men and their fathers" club. So in 1997 we started the legend…and this year the team participates in its 20th consecutive Murray to Moyne event; in the process raising over $60,000 for health related (mainly) local charities.
But we didn't stop at that...in 1999 another relay ride commenced...from Mildura to Echuca...400 kms. The team jumped at this opportunity also and have participated in every event since. We also participate in any local riding events.
In fact, such has the "active" team image grown that we have participated as a team in other non-riding events as well...the MS 24 hour Swim-a-thon, the Relay for Life walk and local community triathlons. In 2013 we decided to emulate an event put on by a number of Rotary Districts and ride (all the way) to our Annual Rotary District Conference...that year 5 members rode to Warrnambool over 500 kms, the next year it was Ballarat 440 kms, this year Renmark…and so it goes...each year taking about $1,000 for Australian Rotary Health.
The club has had many stalwarts...the current team coordinator riding in his 20th event this year, three others have participated in at least 14 events and let's not forget the bus driver who is up for more than 10 events.
Lets face it, we are not elite riders…with an average age of about 60+, we are a little on the slow side by comparison to the "30 to 40 something" lycra clad warrior.
We still train every Sunday morning with a ride of between 45 and 60 kms and we have participated in other local events and out-of-town social rides on hybrids and mountain bikes.
In 2011, eight members of the team rode all the way from Mildura to Adelaide to celebrate the 65th birthday of one of its founding members. In earlier years we swapped our road bikes for mountain bikes and rode from Broken Hill to Mildura via Menindee and Pooncarrie, we also rode the Mountains to the Murray (Bright/Beechworth to Wangaratta) and East Gippsland Rail Trails! One member even joined the "Great Australian Rotary Bicycle Ride" in 2009 and rode the 4000 km from Darwin to Perth.
Some team members are now ageing (well…of course, like quality wine) but hopefully there will always be an influx of new blood and new enthusiasm so that the team will continue to be an inspiration to all men and women of all ages for another 20 years! Rotary Revolution just keeps on going!
Photo: Irymple "Rotary Revolution" Bike Riding Team
Posted 15 March 2016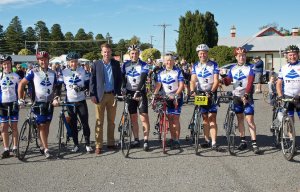 Team TR has been riding the Murray to Moyne Cycle ride since the year 2000 – that makes a total of 16 years this year.
In this time we have lost one of our members "Russell Patrick" the engineer who created our wonderful Bike Rack. We thought of not riding the year he was killed but all his friends said that he would have wanted us to ride in his memory, which of course we did.
Team TR originated from the Tech Rentals Company (rentals of test and measurement equipment since 1978 and is now known as TR Pty Ltd which has three main divisions with
offices Australia wide:
Tech Rentals – Test & measurement equipment rentals –
TR Hirecom – Communications equipment rentals and
TR Calibration – NATA & traceable calibration of test & measurement equipment.
We originally rode as team 210 and wore yellow and red colours. Our riders consisted mostly of staff in the Company as well as some of our customers. We then found our numbers were dwindling so the Cadbury team joined forces with us and we rode in the blue
and red colours.
We now ride in our new company colours of blue and white and we are back to staff members, some customers and also family. i.e. Joan Carter (mum) Danny Carter (son) and Hayden Benwell (grandson) – How good is that!! This epitomises what Woody was all about!!
The CEO of our Company has encouraged staff members interested in riding by offering to pay for their entry into the Murray to Moyne each year. The Company also covers cost of petrol and food and transport support which has been invaluable. Our staff fundraising over these years has reached over $50,000 and the Eastern Health hospitals have been extremely grateful and supportive of our efforts.
The Murray to Moyne volunteers over these years have been excellent. This event could not
happen without them – thank you to you all.
Posted 23 February 2016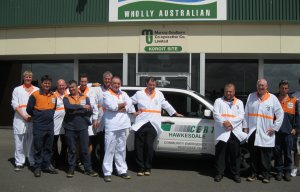 The Murray Goulburn Koroit team, known as the MG Devondalers, started in 2011 with the aim to help the local community, and stay healthy at work.
The idea of entering the Murray to Moyne came from the highly successful Koroit MG Health Group which promotes health initiatives across the factory site and within the Koroit community.
The team consisted of a majority of 'first-time riders' and the focus was about being inclusive and raising the fitness/health of the whole group (and having some fun along the way).
We have been able to encourage riders from across the factory, including our site manager, and last year we adopted the Hawkesdale Secondary College students as they had been trying to enter a team for the previous couple of years.
In helping the community the MG Devondalers support local CERT groups.
"Community Emergency Response Teams (CERTs) consist of ambulance volunteers who function as 'first responders' within communities where the nearest ambulance branch is at a distanceThe 'Hawkesdale CERT' was founded after a local dairy farmer was seriously injured and had to wait over 45 min for urgent medical attention.
As a group we decided to fundraise for this cause as it's such an important service to the local community and our tanker drivers and farmers can be in these situations, requiring assistance if an accident occurs. We support the three local CERT groups - Hawkesdale, Nullawarre and Port Campbell.
The team fundraises during the year with BBQs and raffles at the factory and a major raffle that all CERT groups assist with selling tickets. The total raised for the local groups over the four years is nearly $30,000 which has been used to assist CERT Group members to attend training and group meetings.
We have been fortunate that many of the service providers to Murray Goulburn understand the importance of the CERT groups and donate to the cause.
We are proud to support the efforts of the Murray to Moyne organisation and congratulate everyone involved for the 30 years of riding and fundraising (and having fun).