Posted 28 March 2017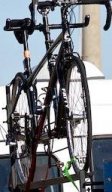 Our team are very excited to be riding in the 2017 M2M. This is the 16th year Australian Catholic University (ACU) has had a team in the Murray to Moyne. At least we think it's 16 years. Joe Perry from ACU is the foundation member and team coordinator and he's lost count! For the last seven years we have been in partnership with Youth Support Advocacy Services (YSAS). There is a small band of team members who've been on every ride since the team's inception. There are also a core of YSAS staff who've been with us ever since YSAS and ACU joined forces. The partnership is perfectly aligned with the mission of ACU and the strong spirit of community engagement at the core of ACU's programs. The partnership has worked extremely well and there's no reason that it should not continue for the foreseeable future.
The team contains staff & students from ACU, staff from YSAS, and friends and relatives from all over Victoria. We're a keen bunch of like-minded people who enjoy riding our bikes and support the invaluable work of YSAS. YSAS engage, support and strengthen highly vulnerable and high-risk young Victorians affected by, or at risk of being affected by, alcohol, drugs, mental health issues and social disconnection. YSAS does this by developing non-judgmental, caring and respectful relationships with young people and their families and communities. With more than 330 skilled staff, YSAS provides a range of integrated services across 12 sites in metropolitan and regional Victoria.
See more at http://www.ysas.org.au/about#sthash.YNER9Rzb.dpuf
We look forward to seeing you on the road at the 2017 M2M. Ride safe and may the wind be ever at your back.