Posted 24 February 2017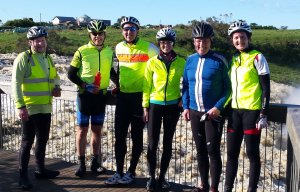 The April 2017 ride will be this team's 4th. From recent anecdotal reports of team members, most of which should be disregarded as distorted reality at best, this year's team will be fitter and faster than ever before.
The team is made up of riders from three organisations in the Warrnambool region – Brophy Family & Youth Services, headspace Warrnambool and South West TAFE. We have recently confirmed a team of 16 riders and 3 support personnel. And what a mix of skill sets we have! This team should be the most cohesive, supportive and mentally tough bunch in the field. In terms of health and wellbeing, our psychologist has been charged with ensuring that the team's minds are as finely chiselled as their physiques. We have a doctor who has been recruited to pick up the pieces when some of those bodies fail to live up to expectations. (Interestingly, this doctor is also a vet. We have had to insist on dual qualifications this year as a result of the ride two years ago, during which one of our riders was cleaned up by a kangaroo. The rider was well cared for by our team of health professionals, but the kangaroo was sadly neglected). Our Child Therapist and Social Worker will be well-placed to look after those members of the team who turn out to be less cohesive, supportive and mentally tough than we had anticipated. The team's IT professionals will ensure that all forms of communication (mobile phone, social media, telepathy …) will be functioning at the highest level. We have a range of accounting and business management skills in the team, so our provisions for catering and other supplies should be detailed to the finest degree, courtesy of the most meticulously managed spreadsheets. Our resident plumber will be on hand to ensure that any non-functioning toilets encountered during the ride will be dealt with expeditiously. The team's builder has been charged with constructing a 5-star all-purpose dwelling for the Saturday night in Hamilton – he has been given an hour for this purpose. Our team nurse will be on-hand 24/7 for the administration of all medicinal substances, although the skills required for accessing any with a twist-top are well-developed across the whole team. Finally, our strong cohort of teachers and trainers will ensure that all our riders are fully aware of the direction they should be riding in at any point in time.
In preparation for the ride, the team have been very active. A small nucleus persists in getting out of bed in the wee hours of the morning three times a week to traverse the countryside on wheels (the photograph provides evidence of some of this group 'taking 5' at the majestic Hopkins Falls just east of Warrnambool). One team member also organises a so-called 'social' ride every Saturday or Sunday morning, where a lazy 100-odd kilometres are covered either side of the obligatory lycra-laden latte. The organiser of these rides presents an interesting story. Until this time last year, she had never ridden anything with less than 3 wheels. Having completed last year's M2M event, she is now a confirmed cycling junkie (she sleeps in her lycra!) and lives and breathes cycling.
Our Riding4Youth team have hosted 3 main fundraisers – a Trash 'n Treasure sale, a film fundraiser night (the much lauded Lion) and a BBQ at Bunnings on none other than Australia Day – what else would they be doing that day??
In previous years, the team has raised money for various causes, including a mind & body fitness programme for young people studying at TAFE. This year, the team's fundraising efforts are being directed to the implementation of strategies designed to prevent youth suicides – a cause close to all our hearts. Ride well, team.