Posted 23 February 2016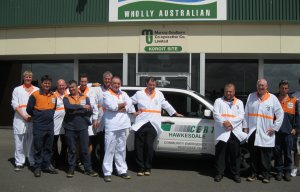 The Murray Goulburn Koroit team, known as the MG Devondalers, started in 2011 with the aim to help the local community, and stay healthy at work.
The idea of entering the Murray to Moyne came from the highly successful Koroit MG Health Group which promotes health initiatives across the factory site and within the Koroit community.
The team consisted of a majority of 'first-time riders' and the focus was about being inclusive and raising the fitness/health of the whole group (and having some fun along the way).
We have been able to encourage riders from across the factory, including our site manager, and last year we adopted the Hawkesdale Secondary College students as they had been trying to enter a team for the previous couple of years.
In helping the community the MG Devondalers support local CERT groups.
"Community Emergency Response Teams (CERTs) consist of ambulance volunteers who function as 'first responders' within communities where the nearest ambulance branch is at a distanceThe 'Hawkesdale CERT' was founded after a local dairy farmer was seriously injured and had to wait over 45 min for urgent medical attention.
As a group we decided to fundraise for this cause as it's such an important service to the local community and our tanker drivers and farmers can be in these situations, requiring assistance if an accident occurs. We support the three local CERT groups - Hawkesdale, Nullawarre and Port Campbell.
The team fundraises during the year with BBQs and raffles at the factory and a major raffle that all CERT groups assist with selling tickets. The total raised for the local groups over the four years is nearly $30,000 which has been used to assist CERT Group members to attend training and group meetings.
We have been fortunate that many of the service providers to Murray Goulburn understand the importance of the CERT groups and donate to the cause.
We are proud to support the efforts of the Murray to Moyne organisation and congratulate everyone involved for the 30 years of riding and fundraising (and having fun).