Posted 27 February 2020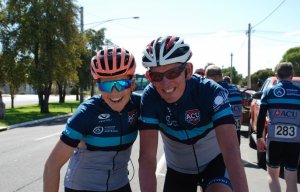 With ''unlucky 13'behind him – Tim Huggins is ready to ride the 2020 M2M in support of Ovarian Cancer Australia
Tim Huggins is a long-term member of the Australian Catholic University M2M team. Unfortunately, Tim had a nasty crash within sight of Port Fairy last year and was transported to hospital. The good news is that Tim made a full recovery from his injuries and is ready to saddle up again for the 2020 M2M with the Australian Catholic University /Ovarian Cancer Australia team (Team #283 riding from Echuca). We asked Tim a few questions about what brings him back and here's what he had to say.
How many M2Ms have you done? Not sure. I did one with Wodonga Hospital before joining the ACU team. I did at least two maybe three when ACU was supporting East Timor and I've done all the YSAS ones plus last year. Is that about 13?
What motivates you to keep coming back? Well after the first year I did not want to return but the challenge to push yourself is an itch. I think with 12 months apart I forget the pain you go through. The camaraderie within the team coupled with the fund raising for worthy organisations gets to me.
How are you feeling about the 2020 M2M given last year's accident? It was never a question of not returning. Cycling has its dangers. I do not equate last year's injuries with M2M it was just one of those things that happened.
What's special about the ACU/OCA M2M team? I've probably answered that by saying the camaraderie. The team's culture is not so much result driven but more let's get there together and do so as a team where each person looks after the other; particularly the non-riders within the team.
You're the current Treasurer of the Rotary Club of Belvoir-Wodonga which has been a significant sponsor of the ACU team for quite some time. In that time, they have contributed over $20,000 dollars to the team's fund-raising efforts. Thank you for your part in facilitating this and thank you so much to the club for such generous support. Why do you think Rotary are such a fantastic sponsor of the team?
ACU Supporting Ovarian Cancer Australia. The Rotary Club of Belvoir-Wodonga is in the fortunate position of running a weekly market (in conjunction with another club) where substantial funds are raised on an annual basis. A lot of Rotary clubs and other service clubs do not have the ability to generate income like we can. As such we can be a bit more far reaching than other clubs. While most of the members are male, we have never questioned supporting Ovarian Cancer Australia; a women's health organisation. The need is what is paramount and there is no doubt about the need to research and support. Rotary's motto is Service Above Self.
ACU Supporting Ovarian Cancer Australia
Ovarian Cancer Australia(OCA) was founded in 2001 by people directly affected by ovarian cancer who wanted to raise awareness of the disease and support those affected. Today, Ovarian Cancer Australia is the leading national ovarian cancer organisation. OCA provide direct support services to women and their families while facilitating research and raising awareness of ovarian cancer on a national scale. All funds raised by the ACU/OCA Murray to Moyne Team go directly to the Ovarian Cancer Australia Support and Information Helpline. This direct telephone and email service connects women and their partners, family and friends with the support team at Ovarian Cancer Australia. The service provides invaluable support, onward referral, information and connection. This is only one example of the feedback the service receives:
"A special thankyou to Anne-Maree for her compassion and kindness in the support and information that she gave me on the support line. What a wonderful service!"
If you'd like to help the ACU/OCA team in their support of the information helpline you can donate directly via this link.
Joe Perry is the ACU/OCA team coordinator. This is a link to Joe's Everyday Hero page where tax deductible donations can be made:
https://murraytomoyne2020.everydayhero.com/au/joe-perry-s-murray-to-moyne-fund-raising-page