Posted 31 January 2020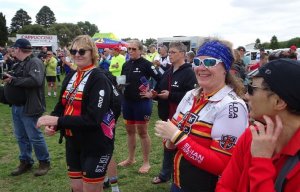 The St Kilda Cycling Club Murray to Moyne Team was established last year when a bright spark, aka trackie member of our club, started with the usual banter at coffee after a bunch ride. She mentioned some relay ride the following year and would we be interested in something different? Filled with adrenaline and caffeine, we agreed thinking it was somewhat off in the distant future, and have we got time for another coffee?
Time passed and the call out came for help with SKCCM2M team administration. This happened at coffee again, happy beans and happy legs so she always got a yes. Logistics, training, food, accommodation, car hire, club sponsorship and charity roles were all filled by some A grade people. You should see our spreadsheets!
To decide on our charity we polled our club members, and okay there might have been some more coffee involved! Given the club has strong links to the Knights of Suburbia Cycling Club (KOS), it was an easy choice for members for the Love Me Love You Foundation (LMLY) to be our nominated charity.
This not-for-profit works on building resilience by empowering young adults experiencing mental health, drugs, alcohol, eating disorders and life hardships. Some KOS and LMLY members and staff openly share about their own lived experiences of mental health challenges. You can't be anything but impressed by the courage and passion driving both the club and foundation.
We know not everyone has a mental illness, but everyone has mental health. As cyclists, we experience the physical and mental benefits of pedalling with our mates, in the bunch, racing, or hitting out solo. We find belonging with the events we attend accompanied by what seems like endless banter and antics of being a cyclist in the biggest club in Victoria.
Nevertheless, we are also aware, more quietly there are people who are struggling and suffering in silence still trying to find how to speak up. They may be riding right next to you, or it might be one of your buddy's adolescent children. This is where KOS and LMLY provide non-judgemental spaces, in the bunch, over coffee or through contacting LMLY, to have open conversations, and to help people find connection and support.
This is who the SKCCM2M team are riding for. The ones who are afraid, feeling alone, and perhaps like there is no way out. We want to support LMLY so when that very person finds their voice there will be someone to hear, to reach for them and offer the help they might need.
Our team of 18 members have been attending training rides not only help with fitness but to provide experience in riding different environments. Our dusk rides have been popular with the group displaying impressive bunch skills. An honourable mention goes to the follow car playing what we'd call motivational music and providing what they'd call, funny words of encouragement. The team remains unconvinced of said driver's comments and suspicion is they may have been under the influence of numerous Turkish Delights.
We know the M2M event doesn't have a line winner, but we think our riders are champions by giving of their time and efforts. There is a sense of focused purpose coupled with endless jokes, sometimes resembling a comedy show as messages fly on the online chat. We are a mixed bunch of riders and although we may not agree on the joys of a roast chicken, the comradeship and spirit of the team is formidable.
This is what we love about our club, that there is room for everyone and even though cycling is our thing, next and foremost is the community we create by joining in. Alongside our relay riding there will be lifelong memories and friendships forged as we continue to debate the merits or distain of Turkish Delight, poultry and hoodies versus t-shirts.
We turn up, we train, we banter, we laugh, we support, we encourage, we pedal. We are SKCC!