Support Crew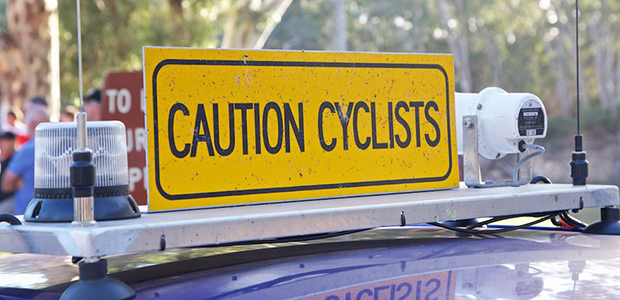 This event is a fun relay not a competitive race.
Vehicle & route advice
A team of 8 riders with 3 support crew require no more than 2 vehicles.
Support vehicles need to be roomy enough to carry riders, bikes and gear. A minibus and a car, or minibuses capable of carrying all the bikes without cramming them in are best.
Remember bikes have to be pulled out every time a rider changes. Minibuses can double as a temporary bed, and when the back flap is lifted it can act as a veranda.
Large buses of more than 22 seats, caravans, trucks greater than one tonne, trailers greater that 5' x 10' are not allowed, as their size and bulk are too obstructive on the road. Bike racks that fit on a tow-bar can often be borrowed. These can take 2-4 bikes. Small trailers can also be used and an A frame apparatus in the trailer allows a number of bikes to be carried very compactly and safely, keeping the width of the trailer to a minimum. Please keep the number of support vehicles to a minimum to avoid traffic congestion.
Use your smallest vehicle to follow the on-road riders, the larger vehicle then being your relay vehicle. The relay vehicle should arrive at the designated changeover point, unload the new riders ready for when the road riders arrive, load them on and go to the next changeover point. If traffic congestion at any stage makes it difficult for your relay vehicle to get through, just BE PATIENT and drive SAFELY. It is better to arrive a little late than not to arrive, even if it means your riders may have to ride a little further if you do not catch up.
For the Sunday morning ride, teams must be very organised for this final section, as there is only one support vehicle allowed to follow your team from Hamilton to Port Fairy, either via Penshurst or Macarthur (Refer maps section), and if they wish to make a change, it must be organised with care.
All other support vehicles must go directly to Port Fairy and find a park at the finish in Railway Place. Non designated vehicles may drop off riders along the route for team changeovers, but that vehicle must remain ahead of the lead vehicle and not get mixed up in the ride to avoid traffic congestion. Considerable team planning is required to meet this condition of the event.
Non designated vehicles leaving late from Hamilton, ie: after the event has restarted will be directed by Police and volunteers down an alternative route via Mt Napier Road to Port Fairy where cyclists will not be riding. So, be very organised for your Hamilton start.
Feeding & fuelling riders
We have arranged for nutritious meals to be purchased at strategic points along each route. Menus will be published prior to the ride and some will require ordering. These hot meals are provided by local groups such as the Beulah Primary School Parents Club. We believe in the KISS principle - "Keep it Simple Stupid". Cooking on route adds another complexity you do not really need !
If you need to bring your own food - your driver or support crew should be able to double as cooks to save room in vehicles.
The gas BBQ is the best means of heating up pre-cooked foods such as soup, stew, pasta & creamed rice. This type of food is best taken about every third changeover of riders. Thermos should be kept topped up with hot water for hot drinks.
Good in between snacks can consist of sandwiches, fruit, especially bananas, high energy foods, fruit bars, cake, etc. Keep well hydrated, especially if conditions are warm.
If riders have something to eat before it is their turn to ride, eat lightly and don't start too hard. Settle in before pushing the pace. If you have riders riding for longer distances between breaks, they should take their own snack food in their pockets.
DO NOT ATTEMPT TO PASS FOOD OR DRINKS TO THEM FROM A MOVING VEHICLE. THIS IS EXTREMELY DANGEROUS AND WILL NOT BE TOLERATED.
When a hot feed is required, the riders about to ride should be fed before the changeover and the on-road riders be fed when they get off. YOU MUST KEEP A RIDER ON THE ROAD AT ALL TIMES.
Important on-road advice for support crews
ALL DRIVERS MUST OBEY ALL ROAD RULES. Support Crew and/or vehicles reported by rider officials during the event risk being banned from further Murray to Moyne Team Relays. We do use gopro cameras on selected vehicles to keep tabs on people not following the guidelines.
An important role for the Support Crew is to watch out for and look after the cyclists in your team both when on-road and off-road.
First Aid units will be strategically placed throughout the ride, but it is advised for all teams to carry their own First Aid equipment.
Support vehicles should travel far enough back so that drivers can stop in time if necessary. If a rider falls, they can stop very quickly and you are on top of them before you realise it.
Vehicles should be driven as close to the left hand side of the road as possible. When other traffic is passing, the following vehicles should move further to the left e.g. left hand wheels in the gravel if the road shoulder permits.
If your riders are in a bunch with others, there is only need for one vehicle to follow each bunch of riders, but when alone, especially at night, it is imperative that your support vehicle is following your riders for added safety and assistance.
At night, drive with lights on LOW beam when following riders. Avoid high beam on the ride as there are turning marshals on intersections and many motorcyclist officials ahead who may be blinded by high beam lights.
The LAST vehicle behind riders should have its hazard lights turned ON, but not those vehicles in front.
It is advisable to carry a First Aid Kit in each vehicle.
Team support crew should also read