Road Advice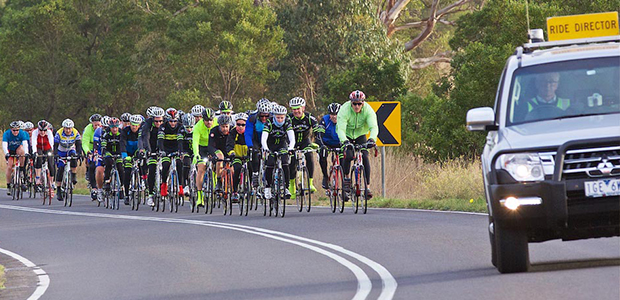 For Riders, Team Managers & Support Crew
The M2M is a team cycle relay. It is not designed to be an individual full distance ride and is certainly NOT A RACE.
The M2M provides riders of all abilities with the physical challenge to cover the full distance in not much more than 24 hours as a team in relay.
Riders looking for more of a challenge can increase the distance of their relay sections or try riding a double shift. In the interests of safety and a directive from the Police, teams found racing will be stopped. No full distance riders are permitted.
The Ride Director on each leg will have ultimate control of decisions to be made once the ride is in progress. He or she will have radio contact with Motorcycle Marshals, Lead and Rear Vehicles, First Aid Vehicles and can contact the Police if necessary.
Motorcycle Marshals will be moving through the ride to give reminders and assistance when necessary. It is important to follow their instructions.
Official Event Volunteers and Police will be marshalling corners and danger spots, and also provide directions and assistance when needed.
First Aid units will be strategically placed throughout the ride, but it is advised for all teams to carry their own First Aid equipment. Each First Aid vehicle is equiped with an Emergency Heart Defibrillator.
The Rear Vehicle will ensure slower teams are aware of their time limit. The lead vehicle may need to stop the front of the ride if the spread is getting too far to ensure support services are not spread too thinly. (We are required to have a spread from the front to the rear of no more thank 60 kms). The Ride Director reserves the right to move slower teams by vehicle to catch up if they are not averaging a speed of approximately 22kms/hr in order to complete the event within 24 hours. This is in the interests of safety.
If you do not think your team can meet the following requirements, then we recommend you consider opting for the Daytime Ride Option - This enables your team to ride from the start until dusk - then you use your transport to the overnight Compulsory Stop at Hamilton.
RIDERS ARE TO STAY APPROXIMATELY 300 METRES BEHIND THE LEAD VEHICLE.
CYCLISTS AND SUPPORT VEHICLE DRIVERS MUST OBEY ALL ROAD RULES.
This includes obeying traffic signals and road signs. We do NOT have permission to close roads for the event and it is your responsibility to take care at intersections, etc. Riding helmets, reflective clothing and working lights on bikes at night are COMPULSORY.
TRIBARS ARE NOT PERMITTED AS THEY JEOPARDISE THE SAFETY OF OTHER RIDERS, ESPECIALLY WHEN RIDING IN BUNCHES.
Teams will be notified of their team number and starting time well before the event. It is the team's responsibility to clearly display their team number on the backs of all their riders, day and night. A patch of 20 cm x 25 cm is a good size.
All Riders and Support Crew MUST attend a pre-ride briefing near the starting area at a time to be notified. It is compulsory for all support drivers and crew to wear a reflective vest for the duration of the ride.
Groups of 15-24 riders will leave at 2 or 3 minute intervals, and starting times will be at the discretion of the event organisers. If you consider your team to be slow, please request an early start. Alternatively, if you consider your team to be experienced and fast, please request a late start to avoid the frustration of being stopped on the ride.
Teams may ride together as a bunch or on their own. If riders from other teams group into bunches of similar ability, it makes riding more pleasant, but make sure that you have practiced bunch riding in the weeks before.
On each route the M2M Ride Director will organise a compulsory stop which will be nominated at Saturday morning briefing. The stop is designed to avoid the ride spreading too far.
Saturday night – Hamilton stop over
Teams MUST REGISTER at the Hamilton Showgrounds on arrival. This can be done in person at the Hamilton show grounds or by Phone / Text if you are staying at some other location. See your current Ride Guide for phone Nos.
The Hamilton Showgrounds will be available at no cost for teams to camp by pitching tents, or using team vehicles (buses, vans, etc).
Accommodation is also available at no cost for teams in the judging sheds (bring own swag, sleeping bag, lilo, etc). Shower facilities and breakfast for a gold coin, at the HILAC centre across the road.
If teams elect to stay elsewhere, they must book their own accommodation (more information on accommodation) and must ensure that riders are punctual for the re-start and that vehicles not allocated to follow, go directly to Port Fairy before the lead vehicle.
Sunday start – Hamilton show grounds
The ride then re-starts from 7.00 a.m. from Hamilton. Each team is given a start time, leaving at 2 minute intervals.
Only one allocated vehicle is permitted for each team to follow cyclists from Hamilton to Port Fairy, a distance of 80 to 90 kms. Teams must be very organised for this final section, as there is only one support vehicle, and if they wish to make a change, it must be organised carefully to ensure their other vehicle does not get mixed up in the event, ie it must remain in front of the lead vehicle. Non-designated vehicles leaving after the Hamilton start time will be directed by Police and volunteers down a vehicle only alternative route via Mt. Napier Road to Port Fairy.
Sunday finish – Port Fairy, Railway Place
Riders must be into Port Fairy by 11:00am, as there are no officials on the course after this time. Ideally riders should finish by 11:00am to complete the event within 24 hours.
At the end of the ride, there will be a short presentation to recognise individual and team milestones, present prizes and to announce the award os the annual Graham Woodrup Memorial Medal. Team medals can be collected from the M2M tent located near the finish line.