Participant FAQs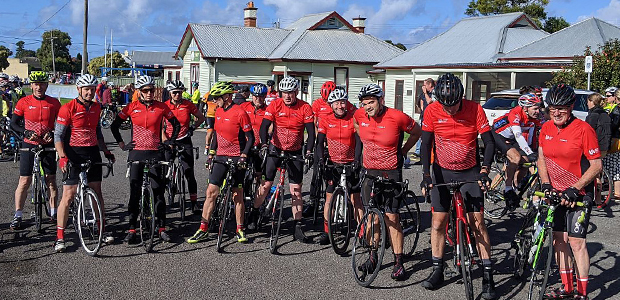 Some of the common questions which we've been asked about participating in the event.
How many Riders can we have in a team?

There is no limit, but an average of 8 to 12 Riders works well. Just remember, the more Riders you have, the more bikes you'll have, and the more vehicles and trailers you'll need to carry them all.

What distance should each relay be?

It depends on the rider's ability and weather conditions at the time, but most teams ride between 20 and 30kms per interval. Your stronger and more experienced riders might double up and do 2 intervals - eg 40 or 60 kms per ride.

Do we have to CHECK IN at Hamilton on Saturday night?

Yes it is very important to CHECK IN at the Hamilton Showgrounds as the officials need to know that you have arrived safely in Hamilton. You also need to check-in so we can give you your start time for Sunday morning. Check in can be completed in two ways: In person at the Hamilton Show Grounds or by phone, if your team is not staying at the Show Grounds.

What size vehicles and trailers can we use?

You can use a car, 4x4 or a small mini-bus up to 22 seats and trailers no more then 5' x 10'. Vehicles and trailers larger than this block the view for other vehicles and riders and are difficult to over take.

How many Support Crew should we have on our team?

While your Support Crew are very important, the number should be kept to a minimum. A team of 8 to 12 Riders should only require 3 versatile, (i.e. driver, cook and coach!) Support Crew.

What time do I need to check in at the start?


You will be notified of the times of the Ride Briefings and your Team's start times closer to the event. It is likely that the Night Riders and Day Timers will have the opportunity to attend a Ride Briefing on the Friday night before the event, as well as on the Saturday morning before the start.

All Riders and Support Crew must attend one of the Ride Briefings to receive their individual Event Pack, any merchandise they have purchased. Event Packs for a whole team will be given out to the Team Captain upon checkin to disperse as has been the case in the past.

Individual COVID-19 Declaration Forms will be issued to Team Captains at the Check - In on the Friday Night (preferable) or Saurday morning. These Declarations Need to be completed by each participant and verified by your Captain - then returned to the Ride Director before you can start the event.

Can I use a Tri-Bar on my bike? Can I use an E-bike ?

Tri-bars are not suitable for bunch riding. You cannot use them in the M2M.

Riders can use a E-bike if they are experienced and used to riding in a bunch. Battery recharging is the responsibilty of the user.

What is the 'Grahram Woodrup Medal'?

It is an award presented at the finish in Port Fairy, which recognizes a person involved with the Murray to Moyne who has made a major contribution to their chosen Health Service. This person may be a Rider, Support Crew or a major fundraiser. Any team can nominate someone they feel worthy of the Graham Woodrup Award. Please make sure you read the Award Criteria and follow the application instructions.
Return to Top