Posted 08 January 2023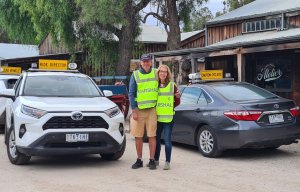 Registrations for Teams and Participants will Open on
20 January 2023 !

Team Captains will need to Register the Team first and then send their Team Password to all their Team Members - so they can then Register individually.

Team Captains - please consider recruiting some new members for 2023.

If you are a New Team Captain - please give us a call at M2M Headquarters and we can give you some assistance with setting up a team and how to organise your team efficiently.
Please call the M2M Administrator : 0467 788 765.
Above Photos - First Aid (Jeannie & Ailsa), Ride Director Jeff & John)
---
The Weather has been anything but ideal for most of South Eastern Australia !
This month we are still hearing news of major flooding along the length of the Mighty Murray and also along the Edwards and Murrumbidgee River in Southern NSW.
Please spare a thought for everyone dealing with these floods that are being experienced across Northern Victoria and NSW.

Hello M2M Newsletter Editor,
Thanks for your email and remembering Kerang during these floods.👍It's very challenging, especially for those outside the town levee bank. A huge amount of water across farms and road closures. The rivers and creeks are all so full, as well as the Murray, so it doesn't help with the run off and flow.
Thanks again for your thoughts. Hope to see you all next year. Keep up your great work organising the M2M again👏👏
Kind Regards
Margy Christian
Loddon Murray Cycling Club
---
Please take the time and click on the the Link below to see our new Promotional Video.
---
M2M Dates for 2023 - Saturday 1 & Sunday 2 April 2023
These dates were selected based on the following considerations:
Daylight Savings Ends: - Sunday 2 April 2023
Vic School Holidays: Term 1 – 30 Jan 2023 to Thursday 6 April 2023
Easter Dates 2023:

Good Friday – Friday 7 April 2023
Easter Sunday – Sunday 9 April 2023
---
We wish thank all of our 2023 event sponsors for their support and generosity.
Sponsors: Westvic Staffing Solutions, Southern Ocean Mariculture - Ocean Road Abalone - Staff Social Club, KFC - Bird Group, Big 4 Port Fairy Caravan Park, Rebecca's Cafe & Ice Creamery, Port Fairy Electrics, Langley's Accommodation, Hearn's Port Fairy Accommodation.
Inkind Sponsors: Carman's Kitchen, Sunbeam Foods, Coatshire - Warrnambool, Winners Sports Nutrition Bars & Gels - Team Prize Pack, Warrnambool Toyota, Norton Motor Group, Callaghan Motors, Taits Legal, McLaren Hunt Financial Group, G & M Auto Electrics, Allens Freight, Kyabram Removals, Donehue's Leisure - Hamilton, Warrnambool Sheet Metal. Steve Gray - Sign Writing, Bunnings Warehouse - Warrnambool.
M2M Supporters: Rapid Relief Team, Rotary Clubs, Lions Clubs, Beulah Primary School, Moyne Shire, Moyne Health Service, Dunmunkle Lodge - Minyip, TechInsight Web Services, Hamilton SES, Java Jive Coffee - Hamilton, Great Coffee Moments - Port Fairy, Port Fairy Folk Festival.
---
Murray to Moyne Cycle Relay
Over 30 wonderful years, more than 30,000 riders,
46,000 kilometers and $20,000,000 raised.
The M2M is a community organisation established by Graham "Woody" Woodrup to provide support to Hospitals and Healthcare & Wellbeing Services. Woody threw out the challenge to everyone he met to get on a bike and have a go, he also set the example to be generous with your talents and help others whenever you have the opportunity.