Posted 31 March 2022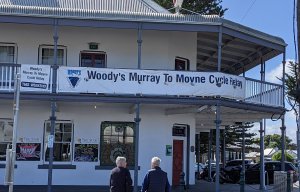 35th Murray to Moyne Cycling Relay:
Saturday 2 and Sunday 3 April 22.
Registration Portal Closed:
Team Captains are reminded to Contact your Ride Director at the Start location to notify us of any last minute registrations or substitutions. The Ride Directors will have a paper copy of the Registration Form available.

---
Ride Update:

All participants are required to attend the Ride Directors Briefing at 8:30 am on Saturday 2 April the Start of each route. This is an important Safety Briefing where all participants are requested to attend.

New Swan Hill Route Start: The start will this year be at the Riverside Park – Monash Drive, Swan Hill. Parking located along Monash Drive and Toilets located in the park. This location is right alongside the Murray River. The Showgrounds site is being used this year for Covid-19 testing.
Catering on Route Options.
Echuca Route: The Rapid Relief (RRT) organisation have confirmed they will supply Breakfast at the start for Echuca. Note: RRT are not able to provide Dinner in Stawell – as in past years.
Swan Hill Route: Rapid Relief – Start of Swan Hill – Breakfast.
Mildura Route: Beulah Primary School – Dinner – Could all teams managers please text message Amanda 0439982305 when leaving Hopetoun so we can have your orders ready when you get to Beulah.
Meals will be brought to the Rotunda for Covid Safe delivery.

Hamilton Compulsory Stop: At the Show Grounds accommodation, the Lions Club will provide breakfast (Egg & Bacon rolls etc) before the ride commences from Hamilton to Port Fairy. Java Jive Mobile Coffee has come on board this year and will provide expresso coffee from about 5:30 am

Hamilton to Port Fairy Via Macarthur: Lions will provide a welcome energy boost with pancakes, egg and bacon rolls plus tea and coffee in the Lions Park (Toilets on Left opposite Post Office).
Hamilton to Port Fairy Via Penshurst (Toilets on Right after you pass through the roundabout) & Hawkesdale (Toilets on right at Swimming pool as you enter town)
Reminder: Our objective is to keep the ride from the front to the rear at about 60 kms (Max) Therefore: Ride Directors can make an Interim STOP for about 20 to 30 minutes to allow the gap to be reduced. In recent years this has been at the following locations: Mildura Route – Warracknabeal; Swan Hill Route – Minyip; and Echuca Route – Stawell. (Ideal for a quick meal break).

Start Times from the Murray River Start Points and from Hamilton have be sent out to Team Captains in a special E-mail last Sunday evening. Please check all your E-mail options if you cannot find it on your computer. A copy will also be placed in your Team Bags. This will also include the routes each team will follow from Hamilton to Port Fairy - via either Penshurst or via Macarthur.

Team Check In & Team Bag Collection for each route can be made with your Ride Directors either: Friday Night – 1 April from 6:00pm to 7:00pm or on Saturday Morning, 2 April from 7:45am to 8:30am.

The Team Check In & Bag Collection Locations are:

Mildura Route: Fishers IGA Carpark, South End. 2111-2019 Fifteenth Street - Irymple. For both Friday night or Saturday morning.

Swan Hill Route: Riverside Park, Monash Drive - Swan Hill. For both Friday night or Saturday morning.

Echuca Route: Friday Night (pm) Paddlewheel Motel, 385 - 389 High Street, Echuca or Saturday (am) Port of Echuca Discovery Centre, Murray Esplanade, Echuca. Parking available either side of the Echuca Discovery Centre

What's included in the Team Bags ? All your Vehicle Identification stickers, Your Team Numbers & safety pins and sponsors products plus a copy's of the Official Ride Guide, Plus Your Yummy Sunbeam Snack Packs and Carmon's Health Bars.

This year the bags will also include a folder with your Team Covid Declarations. These need to be completed - either on Friday Night or Saturday Morning and returned to your Ride Officials - Team Captains Briefing at 8:30 am at the Official Start Locations.

A Covid Safe M2M:

Reminders to all participants of our Covid Safe Strategy for the M2M, Please check the Website (Under the News Tab) for the full details. Here is a brief summary.

Team Management Procedure:
All ride participants are required to be double vaccinated with a recommended Covid-19 vaccination. We also recommend participants receive the Covid-19 booster prior to the 2022 M2M. All ride participants will be required to have their vaccination status verified by M2M Officials, up to 24 hours prior to the commencement of the event.

All participants (Riders & Support Crew), MUST complete the Covid-19 Health Declaration less than 24 hours before the start of the event. The Declarations will be provided to Team Captains in a separate folder via the team packs, that are collected either on Friday night (preferably) or Saturday morning from the Ride Directors. All Participants must return the completed Declarations to the Ride Director before the event commences at 8:30 am.

We are recommending that Team Captains follow the process outlined below.
Step 1: Collect Team Bags including the individual Covid Declaration Forms from your Ride Director at the Start location - either Friday night or Saturday morning.
Step 2: All Team members complete the Covid Declaration Form.
Step 3: Each participant lines up and hand back the completed Covid Declaration and show their Covid Vaccination Status (Green Tick) using either your phone or via a paper vaccination certificate.
We are recommending this is completed when you collect the Team Bags on the Friday night (6:00 pm to 7:00 pm) or Saturday morning from (7:45 am to 8:30 am).

Team Buses should ensure high touch surfaces are sanitised during the ride. These high touch surfaces on the bus / vehicle should be regularly cleaned throughout the event.
Ride finish: When teams roll into the Port Fairy Finish, teams are encouraged to social distance while attending the "Official Presentation" at Railway Place.
Outbreak of Japanese's Encephalitis - River Murray
Just a word of caution - Be aware that this outbreak is occurring across Victoria and insect repellant might be in short supply in some areas - so prepared and take some of your own ! How to prevent it ?
You can protect yourself from being bitten by mosquitos by:
avoiding being bitten by mosquitos.
applying and regularly reapplying an effective insect repellent on exposed skin.
wearing long, loose fitting clothing when outside.
---

From the Ride Directors Desk - Reminders to Team Captains, Riders and Drivers.
Riders who will be riding at dusk should be carrying lights and be able to turn these on once the official lighting up time occurs. Lights MUST be located on the bike and not on a helmet or person (as per the road law). Riders and team support should have the correct Fluoro vest for night riding. That is - the vest has some reflective element to shine at night. Lighting-up Times: Sunset: Saturday 2 April = 7:13 pm Sunrise: Sunday 3 April = 6:13 am.
Motor Cycle Marshals are strategically placed along the M2M route. They are there to assist riders and teams with any emergencies and to ensure you are all following correct safety procedures and heading in the correct direction. Please follow a Motorcycle Marshall's directions as they have your safety as their prime responsibility. Most charity bike rides do not have Motorcycle Marshalls and they are there for the safe running of the event and to ensure we comply with all VicRoads and VicPol requirements. Remember – the Marshalls are there to assist you and your team, they are all volunteers, use their own bikes, so please respect them in their role.
Team Drivers – Please ensure you stop in a safe place and not just anywhere along the side of the road. (Many teams stop exactly where the kilometer mark comes up). This is not necessarily the safest place to get off the road. Remember – your team members need space to get their bikes off trailers and get organised, so you need room and you need to be off the road. Safety comes First !!
Riders after dark should NOT be riding on their own – support drivers should be behind the rider at all times. This is an important safety requirement.
---
M2M Presentation – Railway Place Port Fairy - Celebrate 35 Years of the M2M !!

Once again the M2M will be making some very special presentations at the finish of this years ride. Music will be provided along with some BBQ refreshments provided by the Port Fairy Rotary Club. We were not able to conduct the presentation in 2021, so please include this into your planning – attending the presentation – Its important to recognise milestones and the special efforts of the M2M community.

Sponsors Contribution: Prizes for Participants.
This year has had its challenges, but thanks to our very generous sponsors we are able to offer the following M2M participants prizes. The M2M Committee will randomly draw participants names or Team names based on their M2M Registration No – The Winners will be announced at the Start of the Presentation.

M2M Participant Prizes this year include:
Big 4 Caravan Park, Port Fairy – Accommodation voucher X 2, Valued at $150 each.
Accommodation Voucher in Port Fairy provided by Langley's Accommodation Service. Voucher Valued at $250.
2 Night Stay for 2 at a Port Fairy Accommodation provided by Hearns Accommodation Service. Valued at $550.00

(Note Conditions apply – eg Not available during public or school holidays)

Team Prize - Winner's Bars & Gels Pack.
The M2M Committee wish everyone a safe, happy and enjoyable ride.

---
We wish thank all of our 2022 event sponsors for their support and generosity.
Sponsors: Westvic Staffing Solutions, Southern Ocean Mariculture - Ocean Road Abalone - Staff Social Club, KFC - Bird Group, Big 4 Port Fairy Caravan Park, Rebecca's Cafe & Ice Creamery, Port Fairy Electrics, Langley's Accommodation, Hearn's Port Fairy Accommodation.
Carman's Kitchen, Sunbeam Foods, Coatshire - Warrnambool, Winners Sports Nutrition Bars & Gels - Team Prize Pack, Warrnambool Toyota, Norton Motor Group, Callaghan Motors, Taits Legal, G & M Auto Electrics, Allens Freight, Kyabram Removals, Donehue's Leisure - Hamilton, Warrnambool Sheet Metal. Steve Gray - Sign Writing, Bunnings Warehouse - Warrnambool.
M2M Supporters: Rapid Relief Team, Rotary Clubs, Lions Clubs, Beulah Primary School, Moyne Shire, Moyne Health Service, Dunmunkle Lodge - Minyip, TechInsight Web Services, Hamilton SES, Java Jive Coffee - Hamilton, Great Coffee Moments - Port Fairy, Port Fairy Folk Festival.

---
Murray to Moyne Cycle Relay
Over 30 wonderful years, more than 30,000 riders,
46,000 kilometers and $20,000,000 raised.
The M2M is a community organisation established by Graham "Woody" Woodrup to provide support to Hospitals and Healthcare & Wellbeing Services. Woody threw out the challenge to everyone he met to get on a bike and have a go, he also set the example to be generous with your talents and help others whenever you have the opportunity.