Posted 23 February 2022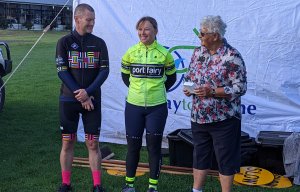 35th Murray to Moyne Cycling Relay:
Sat 2 & Sun 3 April 22.
Registrations Close - Tuesday 22 March 2022

Registrations Open:
Team Captains are reminded to Register your Team First, Then yourself (set a Team Password) and then E-mail the Team Password to all your Team members - Remember all support members need to be Registered.



Covid-19 Entry Requirements Update:
Slight Alteration to Entry Requirements - 20 February 2022
Team Captains Please NOTE:
All participants will be required to complete a Covid-19 Pre-Event Declaration, within 24 hours of the event commencing. The declaration forms will be included in the Team packs - issued to each Team Captain, either on the Friday Night or Saturday Morning of the event by the Ride Director on each route. All Declarations MUST be returned to the Ride Director, before you start the event.
ALL Participants will need to show their Vaccination Certificate (Green Tick Status) to a M2M Official at the start of the ride.
We are recommending that Team Captains follow the process outlined below.
Step 1: Collect Team Bags including the individual Covid Declaration Forms from your Ride Director at the Start location - either Friday night or Saturday morning.

Step 2: All Team members complete the Covid Declaration Form.

Step 3: Each participant lines up and hands back the Covid Declaration and shows their Covid Vaccination Status (Green Tick) using either your phone or via a paper vaccination certificate.

We are recommending this is completed when you collect the Team Bags on the Friday night (6:00 pm to 7:pm) or Saturday morning from (7:30 am to 8:30 am).
We apologise for this change, but we have had legal advice that Covid Vaccination Status verification cannot be performed by the Team Captains as originally planned.
---
On Route Catering Options:
We are looking to be able to provide a full range of Catering Options this year including the provision of Expresso Coffee at the Hamilton Showgrounds by Java Jive Coffee. Order forms for the Dinner options will be E-mailed to Team Captains as soon as they are available.
Breakfast at the Echuca and Swan Hill start location via Rapid Relief organisation.

Dinner on the Swan Hill Route can be ordered at Minyip via Dunmunckle Lodge. Order Forms Required.

Dinner on the Mildura Route can be ordered at Beulah via the Primary School. Order Forms Required.

Breakfast at Hamilton Showgrounds via Hamilton Lions and Java Jive Coffee, from 5:30 am

More details including the order forms will be sent out to Team Captains.
---
Graham Woodrup Memorial Award:
Each year 'The Graham Woodrup Memorial Award' is made to recognised a special contributor to the ethos of Graham and the M2M Cycle Relay. The award is presented to someone who has displayed 'exceptional effort and inspiration' to others in the course of his/her team's involvement with the Murray to Moyne, In memory of 'Woody'.

Who is eligible for the award?
Any person associated with the Murray to Moyne, as a Rider, Support Crew or Event Volunteer. All potential recipients of the award (nominees) are required to be present at the Final Presentation Ceremony in Port Fairy on Sunday 3rd April.

Criteria - Exceptional effort and inspiration:
Graham Woodrup or Woody as he was fondly called, was a visionary. He had a dynamic and enthusiastic personality, inspiring others by example to be generous with their talents by using them to help others. These characteristics epitomise this award for 'exceptional effort and inspiration to others'.

Nominations should address the following criteria:
A person who has overcome difficult circumstances to participate in or be associated with the M2M
A person who has inspired others by their actions and commitment to the M2M.
A person who, through the M2M, has motivated others to get on a bike and have a go!
A person who has encouraged others through the M2M to fundraise for a hospital or health related organisation.
A person who has contributed significantly to the M2M at a team level.
Nominations should include the following details:
Name of nominated person.
Representing Team.
Name of hospital or health related organisation.
Reason for nomination - as per criteria above.
One reference from a member of the local community.
Attach any relevant newspaper clippings and photos.
Nominations are to be received by 5:00 pm, Sunday13 March 2022.
Email to: admin@murraytomoyne.com.au
Murray to Moyne Administrator, P.O. Box 227, Port Fairy VIC 3284
Telephone: 0467 788 765.
Murray to Moyne Cycle Relay
Over 30 wonderful years, more than 30,000 riders,
46,000 kilometers and $20,000,000 raised.