Posted 28 March 2019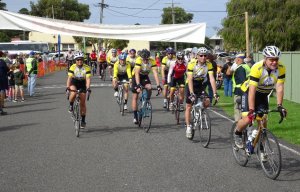 Registrations Close Sunday 31 March
Ride Update: The 33rd Year.
Catering on route options as of early February.
Echuca Route: The Rapid Relief Team have confirmed they will supply catering at the following venues for this year's ride. Start of Echuca and Swan Hill route – Breakfast. Dinner at Stawell for the Echuca route.
Swan Hill Route: Dunmunkle Lodge at Minyip – Dinner – At the Heart of the Wheat Belt – this is the second time for all those on the Swan Hill route. Well worth it! Good Facilities.
Mildura Route: Beulah Primary School – Dinner – Relaxing venue, great food, cool drinks and great facilities –
Menus and order forms for these catering arrangements have been sent out via a separate E-mail.
Echuca Route: Stawell – Rapid Relief Team. Menu will be sent out ASAP.
Hamilton Compulsory Stop: The Lions Club of Hamilton will provide a BBQ breakfast only at the Hamilton Show Grounds this year before the ride commences from Hamilton to Port Fairy. (No dinner being provided this year).
Hamilton to Port Fairy via Macarthur: The Lions Club of Macarthur will provide county cooking - homemade items and hot drinks. This proved very popular again last year and the Lions will be setting up in the Lions Park, Main Street. Please be aware a non - licenced provider has been selling items in Macarthur, and it is not advisable to purchase items from this person. Health authorities have been notified!
Hamilton to Port Fairy via Hawkesdale: The Hawkesdale Critical Emergency Response Team will be offering a range of cakes and yummy homemade items along with Tea and Coffee for that heart starter on Sunday morning.
Team Captains: Please ensure your members are registering.
VicRoads Road Works Notifications for the M2M
Echuca Route: Bridge works continue – Warren Street, Echuca. Murray to Moyne will be re-routed – so please follow Corner Marshalls and pay particular attention at the pre-ride briefing.
From the Ride Directors Desk:
Ride Check In Times & Locations: Team Captains Must Check In your teams with the ride officials on Friday evening 6:00 pm to 7:00 pm or Saturday morning from 7:30 am to 8:30 pm
Mildura Route: Friday Night 5 April or Sat 6 April - Fishers IGA, 15th Avenue, Irymple (5km South of the river).
Swan Hill Route: Friday Night 5 April - Riverside Park, 1 Monash Drive, Swan Hill or Sat 6 April at Showgrounds, Swan Hill.
Echuca Route: Friday Night 5 April - Paddlewheel Motel, 385 High Street (New Venue 2019), Echuca or Sat 6 April – Victoria Park Boat Ramp.
Hamilton to Port Fairy - Sunday Striders Ride: Saturday Night 6 April or Sunday 7 April – Hamilton Showgrounds before 7:00 am. Check in at the M2M Officials Caravan.
Compulsory Drivers Safety Briefing: All support vehicle drivers are required to attend the Saturday Morning briefing at 8:30 am at the start of each route. This Safety Briefing is most important.
Note: New & Improved Reflective Signs in Hamilton directing Teams to the Hamilton Showgrounds.
Team Captains will receive their Team Packs at the Check In: Included will be…..
Official Ride Guide, Riders Team Numbers, List of Teams Participating.
Vehicle Numbers, Route Stickers for your team for the final stage from Hamilton to Port Fairy via either Penshurst or Macarthur (Pink or Green). Safety pins for rider numbers.
Time of Departure from Hamilton.
General Information about the availability of meals on route (see ride update).
Vic Roads: Bike law booklet, information on the Port Fairy to Warrnambool Rail Trail.
Complimentary Sunbeam Products – Sultanas and nuts and Carman's Protein Bars.
Compulsory Team Briefing for Team Captains, Riders, Drivers and Support Crews:
All participants must attend the Teams Briefing on Saturday 6 April at 8:30 am at the official start points for each ride. Here you will meet your Ride Director and representatives of Victoria Police. This final briefing will go over any ride updates as to the road or traffic conditions, weather conditions etc. All the people involved in ensuring the ride is safely conducted will be introduced and their respective roles will be explained. Please ensure your team obeys any safety instructions given at the briefing as it's in everyone's interest that you do so.
Ride Directors for 2019: Mildura Route: John Clue; Swan Hill Route: Leigh Parker; Echuca Route: Jeff McLean.
Each Ride Director will have ultimate control of decisions made on the route once the event commences. The Ride Directors will be in contact with Motorcycle Marshals, Medical Vehicles, Lead and Rear Vehicles, Corner Marshals and Victoria Police.
Lead Vehicles: No rider is to pass or gain pace from the Lead Vehicle or their teams will be withdrawn immediately from the event. If riders are ahead of the Lead Vehicle, they are deemed to be excluded from the event.
Rear Vehicles: The rear Vehicle cannot average less than 22K/h in order to complete the event within 24 Hours. The Rear Vehicle will not stop for teams that pull off the road. You should ensure you have at least 1 rider on the road at all times – in front of the Rear Vehicle. If a cyclist is behind the Rear Vehicle, they are deemed to be excluded from the event.
Motorcycle Marshals: Will be wearing orange reflective vests, they will be moving through the ride to give assistance where necessary and to ensure everyone is following correct ride safety procedures, including riders and support vehicles. Please ensure you follow any directions from Motorcycle Marshals Please respect their role, they are all volunteers – just like you!
Medical Vehicles: There will be a Medical Vehicle on each route and their role is to provide assistance to any accident or incident as well as control vehicles in the area. We hope they will not be needed. Each team should carry your own First Aid Kit for minor problems.
Team Numbers: Help officials and your team support to identify you on the road. Each rider is to write their name and basic medical information on the back of your team number before you commence the event. It should be pinned on your lower back and be visible at all times. This is for your safety and to assist any emergency support to help you if you need it.
Mildura Route: Compulsory Stop at Warracknabeal. This is to enable the ride to come back together, teams to regroup and reduce the gap from the Lead to the Rear Vehicle.
Echuca Route: Compulsory Stop at Stawell. This stop will allow you time for teams to re-group and Dinner. Rapid Relief Team will be providing meals for a gold coin donation.
All Routes: Compulsory Stop at Hamilton. The first in your team (Rider or team Official) to arrive in Hamilton Must Check In at the Hamilton Show Grounds with the Murray to Moyne Officials. We need to know your Team has arrived. This is most important. Last year we had to phone 2 teams who had not checked in – we rang about 2:00 am.
Accommodation is available in the Sheep Judging Pavilion and showers / toilets are available across the road at the Hamilton Indoor Leisure & Aquatic Centre. (Gold Coin Donation – pays for security officer).
Departure from Hamilton: Team Captains: MUST ensure your team leaves Hamilton on Sunday morning at the correct time. The 2 routes from Hamilton to Port Fairy are designed to get all riders into Port Fairy by 11:00 am – even the slowest! Many teams have a stop along the way either at Hawkesdale or Macarthur. Please ensure you only stop for a short time – the Rear Vehicle must keep moving to keep the ride on schedule and within the Vic Police regulations.
Small groups of 10 riders will leave at 1 minute intervals commencing at 7:00 am. Each team MUST follow your designated route to Port Fairy. This is to ensure groups are spaced out and the flow of local traffic is not impeded. Failure to comply could result in your team being omitted from the event.
On this stage of the ride only ONE vehicle is allowed to follow each team. Other non-designated support vehicles must remain ahead of the Lead Vehicle if they wish to travel down the ride route. If your non-designated vehicle leaves Hamilton behind the Lead Vehicle (after the ride has officially commenced) then you will be directed by Police to travel directly to Port Fairy via the Mt Napier Road. This is necessary to prevent traffic congestion and is a response to Police requests. Only ONE vehicle per team will be provided with the Official (Pink or Green) sticker and it is to be placed on the top driver's side corner of the vehicle – it's imperative that you know which vehicle is to follow the riders before you start the final stage to Port Fairy.
Extreme care needs to be taken on both routes because of the congestion and narrow roads. Following vehicles need to keep well over to the left (this should involve the left wheel of the vehicle straddling the gravel or the edge of the road where practical). Cyclists should remain as far left as possible, ride in single file on double line sections, on crests and on twisty sections of the road or when passing other groups. Everyone (Riders / Drivers) need to show courtesy to oncoming vehicles and overtaking vehicles.
Watch OUT: There are GoPro cameras on the road (on bikes and in vehicles). There will also be a Police presence in either a patrol vehicle and / or Police motorcycle officer allocated to both routes. The Police are there to improve safety of the participants and to enforce the road rules where necessary. Be Warned! Most complaints by the public are from this section of the ride.
Team Organisation and Punctuality is very important for the Final Stage from Hamilton to Port Fairy.
Arrival in Port Fairy (Moyne River): On arrival in Port Fairy you will be directed by Marshals across the very busy Princes Highway (extreme care required) and then through to the finish reception area (Railway Place) in the centre of town. Leading cyclists may be controlled to ensure a steady flow of riders come into the finish together. Most teams wait for all members to arrive so they come across the line as one group – quite a spectacle. Therefore, there is no reason to race to Port Fairy – most teams ride as a group at a steady pace from Hamilton – enjoying the scenery, farmland and views of the coast as you come closer to the Moyne River.
This year at the conclusion of the Murray to Moyne Cycle Relay arrangements will be slightly different. Matt Monk – Radio Personality from 3YB / Coast FM will be the MC for the M2M Finish. Matt will ask Team Captains to talk briefly about their ride, the charity you are riding for, etc. Please be prepared with some funny anecdotes, events etc. Plus entertainment will be provided and participants will receive their medallions. The Graham Woodrup Memorial Award will be made on the stage to recognise someone who has made an exceptional effort and inspiration to others in the course of his/her team's involvement with the Murray to Moyne, In Memory of Woody.
Showersare available anytime in Port Fairy at the Belfast Aquatics Centre – Campbell Street. (Gold Coin Donation).
Special Reminders: Make sure you have your reflective vest for night-time riding and sufficient batteries for your front and rear lights.
Team Bio – McColl's Friesian
McColl's Transport is Australia's largest independent bulk liquid carrier of milk, food and bulk chemicals, with the country's most modern and specialised food grade and chemical tanker trucks spread over 14 depotsand employ over 450 people.
One of McColl's Transport's long-term Geelong based employees, Rod Smith recently passed away on 26 January 2019and will be long remembered for his humour and attitude to life. As a dedication, a team of riders and support crew from Altona, Geelong and Tongala will represent McColl's to ride the Murray to Moyne 520km relay bicycle event from Echuca to Port Fairy.
To remember and honour Rod, we are raising money for Barwon Health Foundation (Cardiac/Heart Research Unit) with the support and encouragement of Rod's family for this fundraising effort. McColl's are dedicated to driving health awareness, providing support and opportunity while promoting a positive lifestyle for the transport industry.
Megan Taylor, Health and Wellness Coordinator
The Murray to Moyne Cycling Relay Committee is a community organisation dedicated to raising funds for Moyne Health Services and facilitate fund raising for health related institutions across Victoria, SA, & NSW and to promote healthy lifestyles through cycling, following the inspiration and example made by Graham "Woody" Woodrup.
This cycle relay has been organised by: Peter Goy, President; Peter Bollard, Vice President; Kate Winnen, Secretary; Bernie Waixel, Treasurer; Sophie O'Keefe (Moyne Health Services Representative), Jeff McLean, John Clue, Charlie Blackwood, Jenny McLean, Barry Moran, Bruce Brown, John Ralph, Ailsa Paltridge, Cynthia McLaren, Denise Wilkie, Helen Tredinick, and IT Support: James Ng.
Special Thankyou to Lou Hollis (M2M Administrator) for all your hard work, organisation and cheerful attitude in making it all happen. Thanks Lou from everyone!!
Registration Timetable:
Normal Registrations: Close midnight Sunday 31 March 2019.
If you have any questions: Please contact:
M2M Administrator via email: admin@murraytomoyne.com.au www.facebook.com/murray2moyne/