Posted 12 December 2018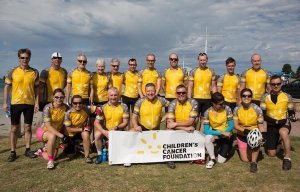 Register Your Team NOW
Early Bird Registration
Closes – Sunday 16 December 2018
Murray to Moyne Annual General Meeting:
The M2M recently conducted its AGM in Port Fairy and John Clue (President) delivered his Annual Report to the Board. John highlighted and thanked the members of the Board and the very many volunteers for their commitment and emphasised our goal to expand the number of participants involved in the M2M. The fantastic weather helped greatly in the running of the 32rd M2M in April this year.
In addition John thanked the Moyne Health Board for their ongoing support, and Sophie O'Keeffe who represents Moyne Health on the M2M Board. Our Treasurer Bernie Waixel, was recognised for ensuring the booking systems runs smoothly and that we are able to meet all our obligations in terms of accounting processes and governance. .John also specifically thanked our Administrator, Lou Hollis, for all her work in organising the road permits and liaising with the many participants who need assistance or have questions about the M2M.
The following Office Bearers were elected and Committee appointed:
President: Peter Goy; Vice President: Peter Bollard; Secretary: Kate Winnen; Treasurer: Bernie Waixel; Plus the following Committee Members: John Clue, Jeff McLean, Charlie Blackwood, Barry Moran, Denise Wilkie, Helen Tredinnick, Jenny McLean, Cynthia McLaren, Bruce Brown and Sophie O'Keeffe (Moyne Health Services Board representative). Retiring members are Hester Woodrup and Alice Birrell, both of whom the M2M owes over 30 years of gratitude for their enthusiasm, dedication and all the good times they have contributed to help create the M2M, and develop it into a major recreation and charity event for all Victoria. More on these two great ladies in the next edition.
M2M Website Update and Team and Participant Registration Portal – OPEN
Team Managers and individual team members or potential members should now be aware that the M2M website has recently been updated and the Team and Individual members Registration Portal is Now Open.
Early Bird Registrations Close: Sunday 16 December 2018, and the Final Closing Date for Registrations is Sunday 31 March 2019.
Dates for the 33rd Murray to Moyne Cycling Relay:
Dates: Saturday 6 and Sunday 7 April – 2019.
Note: Victorian School Holidays: Saturday 6 April to Monday 22 April 19.
Note: Easter Public Holidays: Good Friday, 19 April. Easter Saturday, 20 April. Easter Sunday, 21 April. Easter Mon, 22 April.
Behind the Spokes with the Cytotoxic Cyclists – Team Bio
This article originally appeared on the Children's Cancer Foundation website. Republished with permission.
The Cytotoxic Cyclists have taken part in the Murray to Moyne Cycle Relay since 1997, raising over $600,000 for the Children's Cancer Foundation.
The team, led by the indomitable Mary McGowan, is made up of a group of passionate individuals from all walks of life – staff, patient families, childhood cancer survivors and other supporters – who challenge themselves (mentally and physically) each year to participate.
Rick: A Great Challenge
For years, Rick's colleague, Derek, had raved about how much fun the Murray to Moyne Cycle Relay event was. So, in 2011 "for a bit of peace and quiet" Rick joined the Cytotoxic Cyclists as a rider.
Each year, Rick usually rides 300kms.
"Most of us are average riders with the occasional legend (hello Nadia), so when we rotate the lead those with stronger legs can sit at the front longer," Rick said. The 2018 event was the first ride since Derek had passed away from cancer, making it an extra special year for Rick. "I'm sure he had something to do with the 'champagne riding' and lack of punctures," Rick said.
'Champagne riding' is a term used by the team to describe perfect riding conditions – temperature, tail wind and the sun on their backs. Rick rides for his cousin who he lost to leukaemia, when he was 10 years old and she was only 12, and many others. "Cancer is still too common, everyone has family or friends affected and for children it is particularly unfair," he said.
To prepare for the event, Rick puts in regular training rides and rides with others for motivation.
"It doesn't have to be huge distances, my commute to work keeps things ticking over, and then drop in some longer rides," Rick said.
As the Cytotoxic Cyclists ride from Echuca to Port Fairy they pass through some picturesque Victorian countryside.
For Rick, his highlights include twilight riding out of Stawell, "riding in the still of the night with the silhouette of the Grampians" and enjoying a well-deserved beer at the finish line.
"The Murray to Moyne is a great challenge – it's very satisfying, loads of fun and our support crew is second to none," Rick said.
"To everyone who organises and supports the team before and during the event, you make the riders' job so much easier – thank you!" "It makes me feel very proud and humble to be a part of this special group of people," he said.
Rick has some useful fundraising ideas:
Have your friends and family sponsor you by the kilometre
Host a cake sale.
Threaten to wear Lycra to the office.
Early Bird Registration Prize:
Again we are delighted to announce that Hearn's Port Fairy Accommodation will provide a nights accommodation for 2 at one of their premium properties. Once the Early Bird Registration Closes, One registered participants name will be drawn to WIN a weekend for 2 at one of Hearn's Fabulous Beachside properties. You have to be in it to WIN it. Just ask David Castles (2018 winner).
If you have any questions:
Please contact Lou