Posted 08 June 2018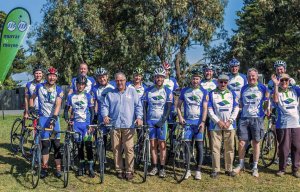 Newsletter No 17: May 2018
WOW – The 2018 M2M - What a Tremendous Cycling Weekend!
Dates for 2019
33rd Murray to Moyne Cycling Relay: Saturday 6 and Sunday 7 April – 2019.
Teams can now commence organising your teams for the 33rd ride.
Reminder – Please ensure you book your accommodation well ahead.
Note: Victorian School Holidays: Saturday 6 April to Monday 22 April 2019.
Note: Easter Public Holidays: Good Friday, 19 April. Easter Sunday, 21 April. Easter Monday, 22 April 2019.
From the Ride Directors Desk:
Wow what a tremendous cycling weekend for the 2018 Murray to Moyne! Warm weather, cloudless skies and wow – that tail wind generated the quickest M2M anyone can remember.
Teams were arriving at all the land marks well ahead of the normal scheduled times. Teams arrived at Hamilton from about 9:00 pm and caught some of the support staff off balance due to the early arrival.
Overall the Ride Directors were very happy with the running of the 2018 ride. A big thankyou to all teams and participants for making the M2M ride safe for all and a really enjoyable experience. We have had many very positive and favourable comments from teams and the M2M officials thank you all for your cooperation and support.
In addition, we need to thank the many officials who helped to make the ride possible. These are all volunteers and we wish to recognise them for their time and expertise: The ride directors, front and rear vehicles, medical support, motorcycle marshals, corner marshals; Hamilton stop officials, Port Fairy finish officials, parking assistants, traffic marshals.
We also need to recognise the hospitality support on the ride from: Rapid Relief Team, many Lions Clubs and Rotary Clubs, Beulah Primary School, Dunmunkle Lodge at Minyip, Hawkesdale CERT and Arty Hoey and his band at the finish in Port Fairy.
Some Important notes from the Ride Directors' Debrief are as follows:
· The new Hamilton Signage was missed by some teams and will need to be reviewed.
· Direction signs from Echuca were not in the correct positions and some teams took the wrong turns.
· Closer co-ordination for services in Hamilton is required next year. This includes the traffic co-ordination and marshalling at the start of the ride and through Hamilton City.
· The Committee will look again at the process at the end of the ride ie Medal Presentation etc.
· This year a number of teams did not participate as the team members were all getting older and felt they needed a year off. The Committee is aware that many teams have been participating for well over 20 years and re-generation is required at the grassroots level. We notice that the teams that are able to recruit new members are able to maintain their enthusiasm and recommit to the M2M and to their health charity.
· We have noted that a number of Team Managers have not necessarily sent out the newsletters to all team members including all the regulations for the ride. Some examples of blatant disregard for the ride rules included: One rider was filmed wearing a camera on their helmet and another rider was found helmetless – both very dangerous and illegal!
· One rider fell at Cavendish and required medical attention. A rider also fell at Kirkstall and was assisted by another rider (who was a GP) before an ambulance arrived – no breaks. A special thankyou to the GP for his prompt first aid assistance! A serious accident occurred near Echuca, but none of our officials were notified – we are following up.
· Support vehicles still need to be reminded to move off the road more to allow through traffic safe passage and this was especially noticed coming out of Echuca and Mildura.
Graham Woodrup Memorial Award – 2018.
Congratulations: Lester Campbellfor being awarded the GWMA Medal for 2018 due to his dedication to the spirit of Graham Woodrup and the Murray to Moyne Cycling Relay.
Lester first became involved in the M2M in 1990, when he volunteered to drive a support vehicle for the Warrnambool College Team No 12. Lester drove from Mildura to Port Fairy with a team of five riders and Lester was the one support member.
Lester was driver, mechanic, cook, bottle washer and prime motivator. Lester, due to his love of statistics also kept detailed records of all the relay rides, kilometres covered and these statistics span the 29 years since Lester became involved.
In 1991 Lester became a rider for the first time and has completed 25 rides over this period (counting 2018).
Lester has been inspired by Graham's challenge to encourage people to enjoy the benefits from riding and riding for a good cause, he has been instrumental in keeping the team participating by regenerating the team and recruiting new members each year. He has recruited and trained 16 different supporters and 46 different riders during this time.
As many Team Managers will know, it is not an easy task to recruit and to train new supporters and riders each year. The team riders are well prepared and set themselves a realistic objective for the weekend. Team safety is extremely important and Lester always reminds team members of their safety obligations and ride regulations and use of safety equipment.
Lester has managed the fundraising committee over these 29 years and the team has raised over $100,000 for the Children's Ward of the Warrnambool Base Hospital. The team has used these funds to make strategic purchases for the Children's Ward and some of these have included: Computers for ill students to continue their school work while in hospital, beds for parents to use when their child is in hospital and last year the team helped purchase a specialist infant ventilator to be used for very seriously ill babies both in the hospital and to travel with the infant on the Royal Flying Doctor Ambulance.
Lester has overcome some serious medical issues over his 29 years involvement in the M2M. Due to Lester's courage and fortitude he has made his way back and is an inspirational leader of the Warrnambool College M2M Team 12.
Congratulations to the following who were awarded Graeme Woodrup Award Certificates:
Deb Glen: Team Outpatients, Team No 112 – Based at Rural Northwest Health – Hopetoun Campus.
Sue Afford: Team Outpatients Team No 112 – Based at Rural Northwest Health – Hopetoun Campus.
Vin Walsh: Team Robinvale Euston BUG, Team No 261 - Robinvale and District Health Services.
Deb Glen started driving the Hopetoun M2M Bus in 2006 and has been driving it ever since. Deb has completed her 13th M2M or, as she says, the 12A ride. Deb is not superstitious! Deb has been a very dedicated and committed team member is one of the biggest fundraisers for the team each year. Deb approaches everyone she meets – even around the lake on long weekends when she meets visitors from out of town as gets them to add a few more dollars to the team effort. This is Deb's last year as driver and the team will miss her safe and skilled driving, dedication to the Hopetoun community and Team Outpatients!
Sue Afford has been involved with Team Outpatients in a range of roles for over 22 years. She has been President, Secretary, Treasurer, Safety Officer, Cook, Team Manager, Training coordinator amongst many other roles. Sue has been instrumental in raising funds for Team Outpatients via the annual Cabaret's in Hopetoun and Warracknabeal. Sue has been instrumental in recruiting and training new riders – vitally important for team sustainability. Sue has been very closely involved in a range of community activities including: The Hopetoun Audax Ride, Hopetoun Football & Netball Club, Neighbourhood House and the local CWA.
Vin Walsh has been a member of the Robinvale Euston Bicycle User Group over the last 20 years. Vin has encouraged others to ride and be involved in the Murray to Moyne and has been the driving force associated with the fundraising aspect which has raised over $65000 for the Robinvale and District Health Services over that time for equipment and sensory garden/landscaping. Vin has been the driving force in coordinating the Robinvale Euston Bicycle User Group's Murray to Moyne participation in that time including building the club's resources which now include a bicycle trailer and 2 loan bikes for beginners. He has also been tireless in his encouragement to members of the local and wider community to participate in bike riding or be involved in a support basis of the group. Vin moved away from Robinvale to Castlemaine in 2016 after retiring but still continues to be involved in the group and participate in the group's Murray to Moyne campaign including organisational aspects. Vin is an inspiration to others and a significant factor in the Bicycle group's involvement in the Murray to Moyne.
How to contact the M2M
Please call or email Lou,
Our Administrator: 0467 788 765 or admin@murraytomoyne.com.au