Posted 04 May 2017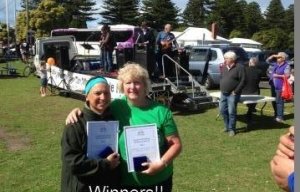 Dates for 2018
Successful conduct of 2017 M2M
Dates for the 32nd Murray to Moyne Cycling Relay: Saturday 7 and Sunday 8 April – 2018.
Teams can now commence organising your teams for the 32nd ride. Reminder – Please ensure you book your accommodation well ahead as we did have a team this year who had not fully appreciated the demand on accommodation and transport.
Note: Victorian School Holidays: Friday 30 March to Sunday 15 April.
Note: Easter Public Holidays: Good Friday, 30 March. Easter Saturday, 31 April. Easter Sunday, 1 April. Easter Monday, 2 April.
From the Ride Directors Desk:
Overall the Ride Directors were very happy with the running of the 2017 M2M Cycling Relay. A big thankyou to all teams and participants for making the M2M ride safe for all and a really enjoyable experience. We have had many very positive and favourable comments from teams and the M2M officials thank you all for your cooperation and support.
In addition we need to thank the many officials who helped to make the ride possible. These are all volunteers and we wish to recognise them for their time and expertise: The ride directors, front and rear vehicles, medical support, motorcycle marshals, corner marshals; Hamilton stop officials, Port Fairy finish officials, parking assistants, traffic marshals.
We also need to recognise the hospitality support on the ride from: Rapid Relief Team, Lions Clubs, Rotary Clubs, Beulah Primary School and Arty Hoey and his band at the finish in Port Fairy.
However each year we have similar issues that persist and it is necessary to highlight these in the interests of everyone's safety and to improve next year's ride.
We have at least 1 team that does not run their team as a relay, but rather the team rides, then stops and then rides again. This behaviour creates problems for the Ride Directors as the team gets behind the Rear vehicle and can hold up the whole event. Note: To be covered by the event insurance, you need to have at least one team member between the Lead and Rear vehicles at all times.
Teams must keep moving down the road and should not stop at the end of each leg. Ie new riders need to be ready to take off as soon as the riders arrive at the changeover. In addition some teams all stop for the evening meal. Again this slows up your teams and the whole rides progress. Teams should be able to stagger who is having a meal and keep some riders and support on the road and then change over further down the road.
A number of riders did not have reflective vests on at night. This is a clear breach of the regulations!
At least 1 rider was on their own (no support vehicle), without a reflective vest and a very dull rear light. This rider was very lucky not to be injured as they were very difficult to see! Marshals were notified and the rider was instructed to get off the road. A number of riders were observed motor pacing vehicles in heavy traffic – this is a really serious breach of the rules.
Support vehicles: Overall a better effort this year by the many drivers helping out as support for teams. We did however witness some very close shaves by teams who have reported these to Marshals and the Ride Director. For example: Vehicles passing on double lines; Vehicles stopping on narrow roads, without getting off the road; Vehicles supplying food & drink to a rider from the bus whilst moving down the road; Parking on the side of the road opposite double lines; Vehicles failing to move over to the left to allow though traffic to pass.
Graham Woodrup Memorial Award – 2017.
Congratulations Ann Hennessy & Christina Mavridis (Colac Cranks Team 30)
Ann Hennessy has been part of the team for 14 years and Christina Mavridis will be participating in her 16th ride this year. Both Ann and Christina have been incredibly hardworking team members and are hugely committed to the team. So much so, that at the end of 2014, both had to face serious personal challenges and still able to participate in the ride.
Both Ann and Chris work within the Allied Health Department at Colac Area Health, and each are well known amongst the Allied Health team as keen recruiters for the Colac Cranks Murray to Moyne team. Ann and Chris have been known over the years to persuade many an unsuspecting physio, dietitian or podiatrist into riding or crewing for the team. Their recruitment efforts have resulted in strong teams, and substantial team member numbers, with the team fielding an impressive 30 members in 2017. Throughout the years Colac Cranks have been represented by 150 riders and crew – and it is no surprise that many of these team members were recruited from Allied Health.
It is not just in the recruitment process that Ann's commitment to the team is noted. During training season, which starts in November, Ann attends weekly training rides to drive the follow vehicle to keep the riders safe, and then provides drinks and homemade snacks afterwards- with a good dose of humour to boot! Similarly, Chris is one to encourage new riders along on training sessions and is always up for a ride week in, week out.
Ann and Chris's enthusiasm for the Colac Cranks and M2M is without a doubt infectious, and their keen ability to pass this onto anyone who appears even slightly interested in taking part is amazing. An example of this was in 2012 when a new Allied Health team member from Melbourne started working at Colac Area Health and didn't have any friends or family in the area. They overheard Ann and Chris talking about M2M one day, and enquired what the event was all about. Although the team member didn't own a bike and had never ridden a road bike before, Ann told them to 'show up for training on Thursday and it will be all sorted.' Six weeks later the team member participated in their first ever Murray to Moyne, made new and lifelong friendships, and is now one of the core members for the Colac Cranks M2M committee and has participated in the event every year since.
The Colac Cranks fundraise for Colac Area Health to provide much needed medical health-related equipment and supports for the Colac Otway Shire community. Ann and Chris are always the first people to put their hands up to assist with any Colac Cranks fundraising effort. Whether it is a dress up movie night, trivia evening or a group dinner, Ann and Chris will work hard to bring the event together and gather as much community support as possible.
M2M Participants Survey: In the next week or so – we will be sending out a short on-line survey and we would appreciate you taking the time to complete it.
Lost and Found: If you have lost any of the following items:
3 pairs of Gloves and 1 necklace (found at Hamilton).
Please contact Lou, our Administrator via email: admin@murraytomoyne.com.au