Posted 05 April 2016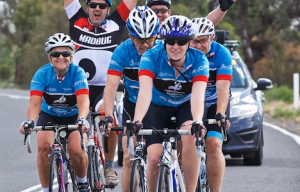 Riders were met with sunny conditions and a stiff southerly breeze as they gathered in Mildura, Swan Hill and Echuca for the early morning start of the Murary to Moyne 30th anniversary ride.
Seventy two teams with over 1,200 riders and support crew covered 520kms in relay to the finish line in Port Fairy on the South West Coast and home to the Moyne River.
The anniversary ride had more riders and teams than last year and they are looking to raise more money with donations building to beat last year's million dollars raised for nominated health organisations.
Check out the participating teams, their chosen health organisations and top fund raisers