Posted 01 April 2016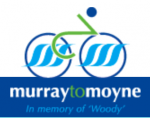 The iconic Murray to Moyne Cycling Relay is gearing up for a new and more independent future.
As it makes final preparations for the 30th annual relay, the management team is establishing a new management structure to steer the event forward.
Moyne Health Services Board chair Ralph Leutton said that since its inception, the event had been run under the auspices of Moyne Health Services.
There were now plans for the committee to incorporate under its own entity to ensure the future viability of one of Victoria's most popular cycling events.
"Over the years, Murray to Moyne has become a much bigger and more complex beast," Mr Leutton said.
"It really needs the expertise and the focus of a professional organisation to oversee things."
Mr Leutton said that whilst Moyne Health Services was and would continue to be a proud supporter of the event, its core business was providing health services to its communities.
"We're great at delivering quality health care, but we're not event managers with the skills and expertise to plan and deliver an event of this calibre."
Mr Leutton acknowledged the value of Murray to Moyne as an important fundraiser, not only for Moyne Health Services, but for other health services across Victoria.
"During its 30 years, Murray to Moyne has raised in the order of $30 million for regional health services – that's an extraordinary achievement."
Murray to Moyne Committee Chair John Clue said his colleagues and the many volunteers behind the event were excited about this year's 30th anniversary ride and its future directions.
"This year, we see many teams returning to the event to join the 30th celebrations," Mr Clue said.
"The event has provided the opportunity for both large and small health service organisations to raise much-needed funds and contribute to the wellbeing of many people who have undertaken the challenge either as a rider or part of the support teams."
'Woody's' Murray to Moyne was established 30 years ago when Port Fairy local, Hester Woodrup, challenged her husband, Graham 'Woody' Woodrup and other local identities to ride in relay from the Murray River in Mildura to the Moyne River in Port Fairy.
The first ride raised $10,000 for the Port Fairy hospital.
Today, the event raises around $1 million annually, attracting more than 1000 riders from 150 organisations to raise funds for hospitals and health services.
Mr Clue said the new management structure would enable the organising committee to operate as an incorporated body.
He praised the hard work of the existing committee, noting that a meeting would be held in the coming months to outline the new structure and provide opportunity for community members to join the new management team.
"We acknowledge the assistance of Moyne Health Services in securing the requirements needed for the event, and hope Murray to Moyne will move from strength to strength into the future," Mr Clue said.
Media contact:
John Clue
Murray to Moyne Committee Chair
Mo: 0403 447 646