History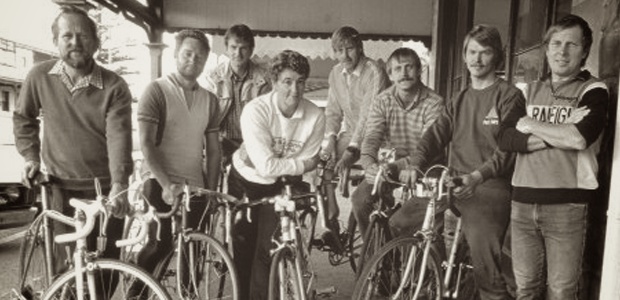 The Port Fairy Apex Team before the first Murray to Moyne in 1987, with Hester Woodrup in the centre and her husband Graham 'Woody' Woodrup on the far right.
Graham Woodrup, or 'Woody' as he was fondly known, was a visionary.
The Murray to Moyne Cycle Relay had a humble beginning, when in 1987, Hester Woodrup and a team of Port Fairy women challenged her husband, Graham 'Woody' Woodrup, the Port Fairy Apex Club and another team of local identities to ride in relay from the Murray River in Mildura to the Moyne River in Port Fairy. The very first ride, which would raise money for the Port Fairy Hospital, started at 2pm on Saturday afternoon and with riding through the night, was completed within 24 hours. Right from the first ride Woody saw the potential for the event and his dynamic personality and enthusiasm in those early years established the M2M and enabled it to grow into the huge event it has become today.
That growth saw the event go from raising $10,000 in 1987 to an estimated $1.3m in 2011 when 1,204 riders representing 150 organisations rode on behalf of hospitals and health services throughout Victoria, New South Wales and South Australia.
Woody himself was a cyclist of some repute with his legendary feats including riding from Perth to Sydney in 1988 – a distance of 4,380kms which he covered in 10 days, 17 hours and 56 minutes! Many other rides were ridden and cycling records broken in order to raise money for the Port Fairy Hospital.
Tragically, Woody's life ended while on a training ride on the 17th February 1992.
While Woody threw out the challenge to everyone he met to get on a bike and have a go, he also set the example to be generous with your talents and help others whenever you have the opportunity.
In memory of this marathon man of Australian cycling, and to honour his commitment to raising funds for hospitals and health services, the Murray to Moyne continues on today, some 25 years after it's inception.
'The Graham Woodrup Memorial Award'
Each year 'The Graham Woodrup Memorial Award' is recognized by a special award being presented to someone who has displayed 'exceptional effort and inspiration' to others in the course of his/her team's involvement with the Murray to Moyne, In memory of 'Woody'.


Recipients of the Graham Woodrup Memorial Award are -
1992 Hester Woodrup & Kate Woodrup (nee Winnen)
1993 Ellie Feeney, Port Fairy
1994 Graham Gugger, Mildura
1995 Hans Kruse, Timboon
1996 Dennis Lemke, Port Fairy
1997 Viv Forster, Echuca - Posthumously
1998 Graeme Wilkerson, Hamilton
1999 Jim Rendell, Port Fairy - Posthumously
2000 Pauline Kelly, Edenhope
2001 Norm Adams, Wangaratta
2002 Fran Taylor, Castlemaine
2003 Graeme McFarlane, Casterton
2004 Kevin Lee, Koroit
2005 Garry Tierney
2006 Alice Birrell
2007 Dr Peter Downie
2008 Tim O'Sullivan - Colac &
Peter Rees - Colac (Joint winners)
2009 Paul Paridaen, Anglesea
2010 Andrew Thomas, Maryborough
2011 Frank Carlous, Department of Health
2012 David Cameron, Mulleraterong Centre Hamilton
2013 Joint winners:
Hugo Johnston, Lorne Community Hospital
Clancy Hammond, Cystic Fibrosis
2014 Les Solly, Team Outpatients, Edenhope Hospital
2015 Rob Mason, Loddon Murray Cycling Team, Kerang
2016 Joint winners:
Mary McGowan, Cytotoxic Cyclists, Children's Cancer Foundation
Winston Silbereisen Daylesford Wheelsuckers, Hepburn Health Service
2017 Joint winners:
Ann Hennessy, Colac Cranks, Colac Area Health
Christine Mavridis, Colac Cranks, Colac Area Health
2018 Lester Campbell, Warrnambool College Team, Childrens Ward - Warrnambool Base.
2019 Joe Perry, ACU Team, Ovarian Cancer Research Australia Team.
2020 M2M Cancelled due to the Covid-19 Pandemic. No award made.
2021 James Wraight, Jimmys Licorice Allsorts Team, Fiona Elsey Cancer Research Institute.